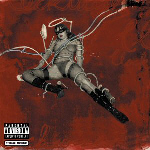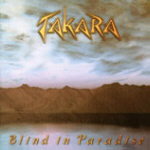 Takara-Blind In Paradise

        © 2002 Lion Music

Clockwise-Healthy Manipulation

                © 2002 RCA Records

'Blind in Paradise' was the last Takara album featuring the amazing and very busy Jeff Scott Soto who many will remember fronted Eyes, Axel Rudi Pell, Human Clay and many, many more. Quite literally many more. I was taking count of the many projects I had seen him involved with and while it escapes me at the moment of the exact amount, it's quite alot. Looking at Takara for this review, this band is very melodic and sound great. This particular release is another one of the reissues via Finland's Lion Music. For those familiar with Soto's career, this release is right there in the average of what he has done. Kind of a heavier Bon Jovi vibe going on. The album was originally released in 1998. Some of my favorite tracks on this album include the opener 'Take U Down', 'Fly 2 Your Arms', the melodic 'Love Is Gone', the title track 'Blind In Paradise', 'Don't Wanna Be Alone', and 'Say U'll Stay'. There really is a consistency to this release that makes for a great listen. If you dig the music fairly straight forward and melodic, this is a good bet.

Overall

As mentioned before, this is a quality release worthy of the reissue and your attention. It's a shame that Jeff Scott Soto moved on, but knowing his typical moves he'll resurface in plenty of other areas including his recent new solo album. Great album!

In todays market music is hinting at getting better for us hard rock fans of the past. Melodies have come back stronger and todays more modern acts are sounding better than just a few years back. Clockwise is one of those bands. Hailing from Las Vegas the band is turning heads with their no BS approach to hard rock. The band does have that modern feel especially when it comes to the vocals. The music is pretty accessible in it's approach. Crunching guitars and melodies once again prove they make a great mix. They are some pretty cool numbers on this album such as the opener 'Lay her down' as well as 'Ego' which has a cool funk bass sound riding the low end. 'Ego' is one of my favorites. Other favorites include 'No Sympathy', the melodic and atmospheric 'Aware', the hard driving 'Beneath', and 'Leverage'. If I was to compare this band I would say they remind me a bit of Candlebox, just a bit more modern sounding. The album is pretty heavy throughout with a few lighter moments as mentioned previously.

Overall

If you like more modern music these guys will definitely have appeal. If you can be experimental and are a traditional hard rock fan and are not afraid to try something new that you might just like, give them a try. Decent stuff!