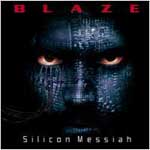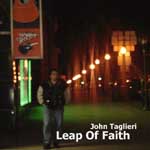 Blaze-Silicon Messiah

             © 2000 SPV

John Taglieri-Leap of Faith

              © 2000 A2 Records

With the departure of Blaze Bayley from Iron Maiden, many fans may wonder what the next step in his career may be. With the release of the new album Silicon Messiah, and new moniker Blaze, I think it is now very clear that great metal music will forge the new path of a successful frontman of our genre.

Silicon Messiah is a collection of dark and moody yet heavy and accessible metal tunes. The style is all his own. Maybe drawing influences from previous acts Iron Maiden and Wolfsbane, Blaze really opens up his own channels with a slight hint of each former project. This album has its own identity.

Tracks like the crunchy opener 'Ghost in the Machine', 'Evolution', and 'Born as a stranger' blast along with a certain precision and aggression that will please most fans of metal. Other stand out tracks are 'Silicon Messiah', 'Identity', and album closer 'Stare at the sun'. I heard some very strong early Iron Maiden influence in 'The Launch'. Check out the bass and guitars on this one. One thing is for sure, Blaze has a great band to back him on this effort.

If metal fans can let Blaze form his own identity and not corner him as the guy who took Bruce Dickinson's spot in Iron Maiden, then they will really enjoy what he has to offer in this new project as well as the future. this album comes recommended.

Are you looking for some great music that is fun to listen to?? How about some great songwriting, upbeat tempos, and catchy choruses?? Let me introduce John Taglieri to you.

I first heard John at Ultrasound 2000. He played an acoustic set of tunes from his album 'Leap of Faith' in extreme temperatures and didn't miss a beat. I had to investigate.

I believe that a lot of people tend to compare some of his stuff to Bon Jovi and I would say this was a fair comparison. Make no mistake about it though, this music definitely has it's own personality. Tunes like 'Leap of Faith', 'First Night' and 'I found you' exemplify John's songwriting nack for great music. I also liked the fact that 'One More Tomorrow' was co-written and performed as a duet with John's wife Michelle. That is something you don't see too often, but is a very nice change up.

This album flows very smoothly with great songwriting in abundance. Notice how I keep mentioning the great songwriting??

John just signed a recording deal with A2 Records and was also just endorsed by Ovation Guitars. The sky is the limit for John. He has the goods to back him up. If you are into the AOR sound, this album is a must!