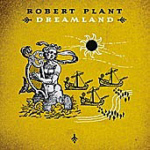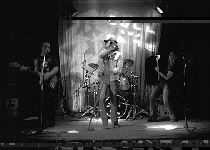 Robert Plant-Dreamland

      © 2002 Universal Records

Freewheeler-Demo

  © 2002 Freewheeler Music

It's been a long while since the legendary Led Zeppelin vocalist, Robert Plant offered up a new platter as a solo artist. Plant has been busy through the 90's, but mostly with former Zeppelin bandmate Jimmy Page. When Plant releases a solo effort it turns into a big guess as to what you will get. Plant has definitely done a variety of things with his solo albums and 'Dreamland' is not going to be the exception to the rule. The music on this album is a bit like the Plant/Page stuff, but also has a bit of Zeppelin influence in places. Actually, I guess the Plant/Page stuff was in the same vein as well. Anyway, the music has a ton of atmosphere which is always good for presentation. The album opens with 'Funny in my mind (I believe I'm fixin' to die)' which reminds me of late Zeppelin. It's definitely one of my favorites and has a great groove. What can really be said about the album is consistency. All of the rest of the album displays a lot of mood and atmosphere as mentioned before and never really strikes a heavy tempo. This is where the comparison comes in to Zeppelin. They were masters at this particular thing. It is important to mention that ths album really has it's own personality. Some of my other personal favorites include 'Last time I saw her', 'Song to the siren' which is light and has some very good orchestration, 'Darkness, Darkness', and 'Red Dress'. While this album is not exactly predictable, after spinning the disc you do expect this kind of music from Plant and his delivery is exceptional.

Overall

It's probably not going to be his biggest release to date, but Plant has delivered what fans of his legendary career would expect. The album has a lot of atmosphere and provides a very good listen. The music tends to lean towards the classic rock vein naturally and will really appeal to fans of that genre, but is not limited to those fans exclusively. Definitely give it a spin.

Freewheeler is a new Uk based band that came together in the Summer of 2001. If you were to describe the band's sound it would be fairly straightforward with its roots definitely rock based. This demo has three tracks and acts as a sampler of what is probably to come. The first track 'Whiskey and the pills' has that sound remiscent of Guns 'n Roses with a bit more of a sleaze vocal sound which is pretty consistent with the other tracks vocal parts. The second track 'This is Rock 'n Roll' is a bit more of the same stylistically. These first two tracks can be sampled from the bands
website.
The final track 'Man not a woman' is a humorous stomp that once again is consistent with the rest. There isn't alot to go on here, but what there is is pretty good. The mix in sound is particularly interesting. Sleaze and hard rock, but not totally grasping one more than the other. Gives a bit of fresh appeal.
Overall

Freewheeler seems to be gaining some ground in a hurry. The band are good at what they do and should be worth watching in the future. Go to their site and download some samples from the link above. Not a bad start at all.