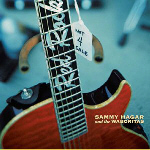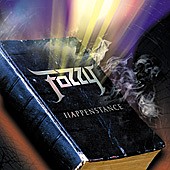 Sammy Hagar-Not 4 Sale

      © 2002 Cabo Wabo Music

Fozzy-Happenstance

© 2002 Megaforce Records

Sammy Hagar is another one of rock's busiest musicians. This album actually snuck up on me. Didn't realize he was releasing, but was plenty happy about it anyway. Hagar defintely propelled Van Halen to new heights, but I was always a bigger fan of his solo material. This album is a good reason why. Musically, the album is fairly raw and straightforward. I think what sets this album apart from his previous releases is the vocal parts. Hagar is sounding better than ever on this album. His vocals come across a bit more melodic yet at the same time, the music never loses it's edge. That can sometimes be a real feat which is why I say his vocals are so well done. Now like I said before, the album does rock. Familiar to me was the track 'Stand Up' which ws also featured in the movie 'Rock Star', but is a bit different. Not only did Hagar pen the tune, but the personality to the song on his rendition is different as well. 'Whole Lotta Zep' is another track the band has a great time with and puts a bit of their own stamp on it as well without losing the original Zep chemistry. Mixing bits of 'Black Dog', 'Whole Lotta Love', and 'Kashmir', this song is fun. Looking at some of the melodic material, 'Karma Wheel' is amazing vocally and 'Halfway to Memphis' is classic Hagar with a bit of remiscence to the album 'Never say Goodbye'. Some of my other favorites include 'Things've Changed', the peppy 'Not 4 Sale', and 'The Big Square Inch' with its cool solo.

Overall

Hagar has become without a doubt one of the most consistent artists in the biz. This album isn't quite as polished as some of his previous efforts, but is very effective and catchy. The band is really working together well and perhaps better than ever before. You can really sense a comfort zone on this album and that is what makes an album great. Very good as usual!

Taking a chip off the Spinal Tap block.... well sort of,  Fozzy has a bit of a gimmick bio going directly related to the cover tunes they do. So what is it?? Well, they claim to have been stuck in Japan after a deal went bad with a record exec. Stuck for 20 years the band had all of their hits ripped off. This is where the cover tunes come in. Remember, it's just a gimmick. The difference between Fozzy and Spinal Tap is the caliber of the originals, and quite simply, these guys are pretty solid and can be taken far more seriously obviously. Not taking anything away from Spinal Tap because they are the classic mock band, but Fozzy really deliver the goods. Fozzy features Wrestler Chris Jericho as well as Stuck Mojo members. The covers are really good with tracks like Wasp's 'L.O.V.E. Machine', Accept's 'Balls to the Wall', and Judas Priest's 'Freewheel Burning'. The high point however as metioned before is the original music like 'To kill a stranger', 'Happenstance', 'Crucify Yourself', and 'With the Fire'. These tracks are absolutely solid. They really validate Fozzy as an act to take more seriously than the mock bio indicates. With Jericho being backed by the guys from Stuck Mojo, the music really packs a whallop. The originals are on the heavy side and mix well with the covers to give the album a total uniformity. Also on the album is some multimedia content including a live video for 'Balls to the Wall', photos, website links, and a biography.

Overall

After buying the bands first release in 2000, I was intrigued enough to check out the latest. The second disc is top notch and will appeal to most metal fans. Go into this release taking the music serious and it is sure to deliver. Very good release!