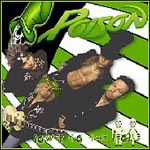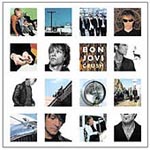 Poison-Power to the people

           © 2000 Cyanide Music

It seems like forever since we heard some new Poison stuff with C.C. Deville. Well, he's back and so is the bands attitude.

Power to the People is a combination of new tracks and live stuff. So how is the new stuff?? I really like these new tracks. Same old Poison attitude with a tad bit newer sound. The newer sound is still Poison. Just a bit of a heavier edge. The opening title track rages in and then sustains a very catchy groove. Can't bring me down follows with a more modern sound, but retains the great choruses. The Last Song is reminiscent of earlier ballads. One of my fav new tracks. Strange is a mid-tempo memorable chorus driven tune. Last of the new stuff is the C.C. Deville sung I hate every bone in your body but mine. C.C. is a decent singer and this tune is very fun to listen to over and over again. If you are looking for good new Poison material, this is a great start.

As far as the live stuff, all of the crowd favorites are evident. Talk dirty to me, Unskinny Bop, and super hit Every Rose has its Thorn are all there. The live element will give you a good taste of what the Poison experience is all about.

The record is released thru Cyanide Records and sounds great. Very good production.

After selling tons of albums, Poison opens another chapter in a storybook career. This is a fun album. Check it out!

Bon Jovi-Crush

© 2000 Island Records

Speaking of bands who have not released studio material in a bit, Bon Jovi finally returns with new album Crush.

Down to a four piece. Bon Jovi still retain the same great sound albeit a bit lighter.

It's my life starts the album on an upbeat note. Slightly reminiscent of Livin' on a prayer, but still retains it's own identity. The album continues at a mid-tempo pace. The album is a bit lighter than previous efforts. One thing one would expect from a Bon Jovi album are great ballads. Thank you for loving me is an awesome example of the lighter side of the band. Other favorites include Next 100 Years, Mystery Train, Just Older, and One Wild Night with it's crazy intro. The music is very well written and performed. I would have to say that in the career of the band, this album reminds me of the Jon Bon Jovi soundtrack to Young Guns II, Blaze of Glory. I mean this in the sense of tempo. The albums are very similar in writing style with the exception of some of the old west element of Blaze of Glory.

The album sounds very good and is available thru Island Records.

I will admit that I was looking for something a bit spunkier than this from the band, but after a listen or two, I am very pleased with the effort. This album does come highly recommended to fans of very good AOR.