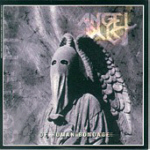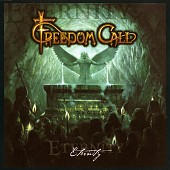 Angel Dust-Of Human Bondage

          © 2002 Century Media Records

  Freedom Call-Eternity

© 2002 SPV/Steamhammer Records

One of my personal favorite bands, Angel Dust, return with their latest effort 'Of Human Bondage'. I remember reading something a bit back about the band changing their sound a bit. What I hear from this album is a bit more heavy sound in places, but the bands sound is still intact. What Angel Dust offers is heavy music ala Savatage and others of this style with a lot of melody.  The band mixes these two elements well to offer one of the industries best sounds. The album opens with the hard driving 'The Human Bondage' which is at times melodic as well. 'Inhuman' continues and shows just how consistent this album will be in quality. Besides the heavy stuff is also some lighter stuff of high quality like 'Disbeliever', the haunting sounding 'The Cultman' which reminds me musically of something Alice Cooper would do in some of the background effects, and 'Forever' which is multi tempo and does pick up a bit. Some of my other favorite tracks include 'Unreal Soul' with it's intersting vocal parts, my personal favorite 'Unite', and 'Freedom Awaits'. For an interesting choice of cover tunes, the band give their take on Seal's 'Killer'.

Overall

Once again Angel Dust deliver the goods. The band never seems to disappoint in my opinion. The album really isn't weak in any area and should definitely appeal to most metal fans. If you haven't checked out this band, you are definitely missing one of power metal's best acts. Great release!

When looking to bands that would be classified at Melodic Speed Metal, fans would definitely bring up bands such as Gamma Ray, Rhapsody, or maybe Iron Savior. Freedom Call is really joining the ranks of these elite in this category. The bands third album 'Eternity' will ascert the band as a force to be reckoned with. You can really tell the natural maturation of the band with each release getting tighter and better. The band actually has released three quality releases to this point. The album fits the style perfectly. You get the case in point with the opener 'Metal Invasion' with it's furious tempo and melodic overtones. This album has a consistency as usual driving right through it with tracks like 'Flying High', 'The Eyes of the World', and 'Island of Dreams' fitting in with the opener in the speed area. The melodic music is evident as well. I believe that the band has done a good job with atmospher on this album. I would use 'Bleeding Heart' or 'Flame in the Night' due to their visual nature. Tracks you can close your eyes and visualize with. Other favorites include 'Ages of Power', 'Land of Light', and the album closer 'Turn Back Time' which is probably the lightest track on the album.

Overall

Another good release from a good band. The release shows a bit of progression in the bands songwriting and displays some good atmosphere. Freedom Call is definitely a band to pay attention to. Check out this release!