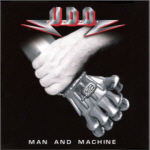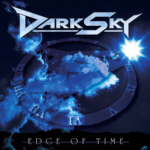 UDO-Man and Machine

© 2002 SPV/Steamhammer Records

Dark Sky-Edge of Time

   © 2002 Dark Sky Publishing

Former Accept frontman Udo Dirkschneider returns to the scene with his latest solo effort. Looking at the sound of the album, I feel it is probably the closest thing to an Accept record without actually being an Accept record. The classic Accept guitar sound is evident as is the gang vocals and overall song structure. The music is very accessible and will definitely appeal to most fans of the power metal sound. Looking a bit closer at some of the music you have a duet with Doro which stands out right away. 'Dancing with the Angel' is well done and finds both vocalists in top form. Looking at some of the other music on the album, 'Man and Machine' opens and sets the tone immediately. The music is pretty consistent stylistically. 'Private Eye', 'Animal Instinct', and 'Black Heart' could have been lifted off of a classic Accept album. Tracks like 'Silent Cry', 'Hard to be honest', and the great album closer 'Unknown Traveller' bring the albums own unique personality out. Fans of Udo have been treated to some good music through his career and have come to know what to expect. This album goes a little further than expectations. It's very well done and has it's fair share of pleasent surprises!

Overall

You know it's gonna be quality with Udo's name on it. You also know it's gonna be heavy. This album is a bit of a different kind of heavy. Not so much intense heavy, but groove heavy. The music on the disc is very well written and comes across very well. This album is kind of a wet dream for fans of Accept. With the mighty metal act grounded, this type of release from their legendary vocalist will definitely get the juices flowing again. Recommended!

It's been a couple of years since Dark Sky's previous studio release 'Believe It' I really liked that release, but unfortunately there were some critics who didn't quite see things my way. Well, the band have actually got those critics digging the new stuff. The new release really hits on all cyinders. The band hasn't strayed much from the previous release stylistically, but does shake things up a bit. The first noticeable difference is the gritty guitar sound. The music is melodic but has a snarl to it as well which really enhances the listen. A good example is 'Bartimaeus' or 'Hard life' or even 'Fading Light'. There is really a bit of edge on these tracks. The second difference is Frank Breuninger's vocals. You hear his accent still, but it's not quite as apparent as 'Believe it'. He just sounds a bit smoother and the vocal parts are a bit more refined. Frank really sounds great singing the new material. Some of the other rockers include 'Turn away', 'Judgement Day' and 'Look in my eyes'. The melodic tracks include the amazing ballad 'Hope still hasn't gone', 'In my mind', and 'By your side'. Musically, the band has never sounded better. There is consistency throughout the album that makes the album one of the years best listens.

Overall

I was a big fan of Dark Sky's 'Believe it' and really wasn't sure why others were more critical of it. With 'Edge of Time', there is a progression of the bands elements and songwriting skills that seems to have won many over. Dark Sky may be one of the most overlooked talents that has put together some great melodic music. If you are a fan of great hard rock music, then definitely don't miss this release! Highly recommended!