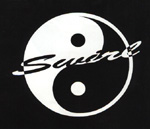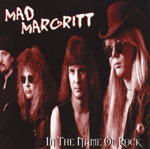 Swirl-Out of Nowhere

  © 1997  I.C.E. Productions

I love debut albums. Doesn't it seem like if the band is good, their first album really rocks?? Swirl's debut is no exception. I had the chance to catch this band live before I heard the album. I was sold on the music in a big way.

'Out of Nowhere' is a feast for the ears. There are 13 tracks total on the album. The album starts out rockin' with 'Shades of Red' and continues from there. The band performed the classic 'Stand by me' that lead off their own track 'Sail Away' which is a lighter side of the band, but definitely one of the strongest tracks on the album. I personally liked 'Nellie' quite a bit. Most bands are not daring enough to incorporate elements like violin's. 'Nellie' contains a mid-section of violin that enhances the song in a big way. My favorite track of the album is 'Cold December'. The vocal arrangements are extremely cool. The track builds into a crunch session with great low end from the rhythm section. Duane, the guitarist really rips on this one. Another favorite is the title track 'Out of Nowhere' with it's big choruses. This album wins big start to finish

Production sounds very good for an indie release. Try this on for size. Carlos Cavazo of Quiet Riot produced and Matt Thorne from Rough Cutt engineered this disc. You definitely can't go wrong working with big names like these. The results are great. The release does not have an insert booklet so don't feel like you were cheated if yours doesn't come with one. This is a great release so don't let that detract from purchasing this album.

I really recommend this release. Tight songs and great production from a bunch of great guys who really know how to get it done. I'm eagerly anticipating a new release after hearing this one.

Mad Margritt-In the name of Rock

                 © 1999 Delinquent Records

So you have missed that great 80's revolution of hard rock?? Boy, have we got a treat for you. Mad Margritt plays it just the way you want it. Loud and nasty and minus those crappy 90's influences.

I dove into this release and really liked it. I have to admit that I like intros. The intro that starts off this jam-fest is pretty cool. The music on the album is solid. 'In the name of Rock' contains 10 tracks that kind of remind me of Tuff in a way. Plenty of attitude to go around throughout the album. My favorite tracks are 'Anyway (that you want me),  'Heavens on Fire', and 'In the name of Rock.' Vocals on some songs remind me of Fernando from Victory and others like a touch of Lizzy Borden, but not a clone of either. Pretty good stuff overall.

Production sounds fine although I would like to have heard more punch from it. It isn't a bad recording by any means though. No lyrics shut is included, but band photos are there with live shots as well.

This is a good disc to have especially if you are one of those 80's starved rock fans that does not like 90's trainwreck music. This album is about having a good time and just rocking out. Give it a closer look. Check Perris Records for this title.