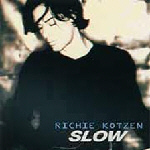 Sons of Angels-Slumber with the Lion

                              © 2001 Z Records

Richie Kotzen-Slow

     © 2002 Lion Music

It's been a while since we have had some new material from Sons of Angels. I was a big fan of the bands debut release on Atlantic Records some time back. After the bands demise, lead vocalist Solli fronted 21 Guns and Adrian Smith's Psycho Motel on the debut. Well, I'm still trying to figure this new album out. Sounds like it was recorded back in the same time era as the debut but Z Records claims it was more of a return on their news page. Whatever it is it is very cool. The album opens with 'Burning Childhood' which is my favorite track of the album. It is very uptempo and catchy. The band really retains their sound with a little bit of expanding in areas. Take for instance 'No Sorrow'. Has the sound yet seems to have more depth than previously heard in the bands earlier writing. 'Fire' sounds like it could have made the debut. Very consistent with that albums sound. The band had a way with ballads and nothings changed. 'Hopeless kind' and 'Gimme Lovin' are very solid and melodic. Couldn't ask for better in this area. Other favorites include the melodic 'Stranded', 'Hunger for love' which also could have made the debut, and 'Love you too much'. The band ended much too prematurely and it is really great to have the opportunity to get this album many years later.

Overall

If you liked the debut album by these guys, than this is an absolute must. The album really mirrors the debut in many ways, but does add some new dimension as well. I believe this release could even be a bit better thn the debut. It really is very solid and should really please most hard rock fans. This one comes highly recommended!

I wasn't hugely familiar with Richie Kotzen. I heard some early material and naturally his stint with Poison a few years back. I recieved his new album and really had no idea what to expect from it stylistically. I figured it would be a guitar God release with a lot of noodling on the fret board. Boy was I in for a shock. Kotzen can really play in many areas and do it quite effectively. This album he geared to a very cool funk vibe. Kotzen is credited in the album with playing everything and does it all very well. What is amazing is how well the release works. Everything is balanced well. The music is kind of hard to nail down. I hear a bit of the same style Jeff Scott Soto did on his solo effort 'Love Parade'. Some of my favorites include 'Gold Digger' which is just as good vocally as it is musically, the opener 'Scared of You' has the funk feel as well as does 'Slow' which is very catchy as well. 'Got it bad'  has some cool sounds in the guitar area. 'Come back' (swear to God)' is one of my favorites due to it's melody and choruses. You would wonder where the noodling has to be right? After all Richie definitely has it in the guitar department. Check out 'The Answer' or 'Sapphire' or even the Jazz flavored 'Conflicted'. He does get down to business on these and a bit here and there throughout some of the other tracks. This album really holds up well due to the approach taken in the songwriting and vocally it's pretty damn good as well. When I say vocals, I mean that this is a vocally driven record not an instrumental. For those going into this expecting instrumental, you will be caught off guard. 

Overall

I really love this album!  Sure it has that funk feel and some influence straight out of the dominant radio era of the 70's, but it works so well I was floored. I will say that if you go in open minded you really might like it. Some people might shun it due to the funk flavor here and there. That will be the real shame in all of this. This is a very fun release and comes highly recommended!