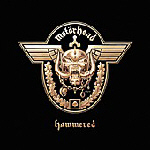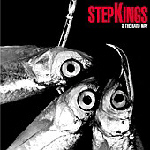 Motorhead-Hammered

     © 2002 Metal-Is Records

Step Kings-3 the hard way

  © 2002 Fantastic Plastic Records

Motorhead is absolutely amazing. They have been doing it forever and don't show any signs of slowing. 'Hammered' is the bands latest release via Metal-Is Records. The album is fairly typical of what the band generally offers. Heavy Lemmy flavored metal that we've known for a very long time. There really is a variety on this disc if you could put it that way. We all know what to expect from Motorhead, and there is no disappointment found here. You don't see the band treading any new water, but that's not always a bad thing, right? Looking at some of the music 'Walk a crooked mile' opens the album heavy, the classic so 'Brave new world', 'Voices from the war' which is one of my personal favorites, the smashing 'Kill the world' which will grab you by the throat, and how about the furious 'Red Raw'. The consistency of this album is apparent and all of the tracks will hit the spot with the fans.

Overall

Well, what can you say?? Another good album from a good band. The band has always known where it works best and continues to use the same mold. The tracks are all relatively heavy with a few of them getting thrashy which are the ones I always dig anyway. You also have a couple of bonus tracks on the Metal-Is version. 'The Game' and 'Overnight Sensation (live)' which are nice additions. If you are a Motorhead fan you probably already have it. If you are a fan of metal music in general this album will work as well. If you are a fan of pop, look elsewhere 'cause this one could hurt. Good release.

I am not always the best judge of the more modern sounds of metal. It is actually a bit of dangerous ground for me. Every now and then I will check out a release that I feel has merit and draw my conclusions accordingly. One of those releases is the new album by the Step Kings titled '3 the hard way'. The thing that struck me was the cool groove by way of the guitar work. Nothing flashy, but catchy nonetheless. Opening track 'Nucleus' is a pretty good case in point. A very aggressive track with angry vocals, but also has a cool vibe. I also dig 'Zeroes and Ones' which is crunchy but does have a bit of melody as well. The album takes a bit of a turn with 'Helicopters' which retains the heavy feel, but really stands out vocally. Another interesting twist is the closer '12/23/01' which is based acoustically and manages to pass of some dark sounding atmosphere with minimal instrumentation.

Overall

If you like your metal a bit more traditional, this may not be for you. The album is geared more to a modern metal sound. The album has some enjoyable areas and tends to be fairly consistent. If you dig this kind of thing, check this one out.