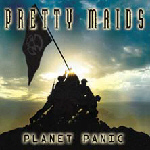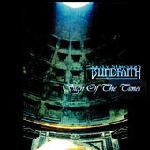 Pretty Maids-Planet Panic

       © 2002 Massacre Records

Pretty Maids are without a doubt one of the most consistent Metal acts to ever grace a stage. The band has been pleasing fans for 2 decades. The newest album 'Planet Panic' just adds to the proof of what this band has offered to the Metal community. The album contains 10 tracks with an interesting variety of topics. The album opener 'Virtual Brutality' looks at the disaster of September 11, 2001. The band weighs in on the after effect as well as the event itself. The song has some cool vocal effects and is very crunchy. Also political is 'Playing God' which addresses human cloning and the possible cultural disaster it may present. As political as some of the album may be, the music is never overshadowed. The classic Pretty Maids sound is there. The band definitely knows it's zone and works to maximum effect in it. Other tracks I really liked personally include 'Face of me enemy', 'Natural High', 'Who's gonna change', 'Worthless', and  the atmospheric 'Enter Forevermore'. The album will really appeal to most crowds.

Overall

Another top notch release from a top notch act. Ihave become a major fan of this band. They do it all well. Great ballads, full throttle rockers, and are capable of painting a visual with their music. 2 decades have been graced by these guys and let's hope there is plenty more to come. This album is consistent throughout and I feel is essential once again for fans of the genre. Highly Recommended!

Kelly Simonz's Blind Faith-Sign of the times

                                   © 2002 Lion Music

Here is one of those sleeper albums. Recieved it... never heard of it.... loved the hell out of it! Kelly Simonz appears to be a jack of all trades. Based in Japan, Simonz plays everything and is very active in the production of his album by way of mixing and engineering. 'Sign of the times' is Simonz's second effort and displays a wide variety of styles from melodic speed metal through to classical. Simonz seems to be very good at all of his duties as well. He's a good vocalist as is displayed on the opener 'Eternal Flame' with it's familiar melodic speed metal feel and the lighter 'Still' which is one of my personal favorites. The track has a very good atmosphere. Turning heavy with more of a power metal sound is 'King of the castle'. A bit thrashy and very cool. The classical I mentioned is 'Suite in B minor BWV1067'. Some of my other favorites include 'Blind Faith', 'Cry for you' which reminds me a lot of Gary Moore's 'The Loner'. Kind of has the same feel. Also, 'Pain' and 'Stay in my heart' stand out. The album contains a bonus track 'Blind Faith (live)'.

Overall

Kelly Simonz has a very good effort going here. I was really amazed at the overall consistency and presentation that was given with this release. The muic is not too high tech for people o understand and comes across fairly accessible. Lion Music releases this version to the world and have really got something special with this artist. If you are not familiar with Kelly Simonz, I think you will find it very worthy. Another highly recommended title!