Iron Maiden-Brave New World

               ©2000 Portrait Records

It's been a while since we heard any Iron Maiden with Bruce Dickinson as the frontman and even longer since we heard Adrian Smith playing away on some great  tunes. Well, the wait is over! After officially returning to the band last year and touring, the guys have now made their impact on the studio side.

'Brave New World' offers 10 tracks that average somewhere around 6-7 minutes each of awesome composing by many different members of the band. I  have been a huge Iron Maiden fan from way back and was very pleased with the outcome on this album. I picked up on two things that were unique to this effort. First, the sound of the guitars is very large considering the band now has three guitarists on board. The bass doesn't stand out as much as it used to. It is still very prominent however. We are talking about one of the best bass players to roam this planet aren't we?? The bass is evident, but more even in production. The second thing is Bruces voice. I have always considered Dickinson a very good vocalist, but have never heard him sing this melodic yet powerful. He has more control over his vocals and the results are very pleasing. Take for instance 'Brave New World' and 'The thin line between love and Hate'. Both tracks are where I noticed the biggest difference in his vocals. My hat is off to Bruce for his powerful vocals on this album.

Also fairly new to this album is orchestration. Iron Maiden has always been on the edge when it comes to trying new things. It is used very tastefully and enhances a few tracks. I really don't think any fans will be disappointed in this addition, as a matter of fact I think they will be pleased.

Production sounds good on this album. As stated before, the bass is not quite as prominent as previous efforts, but is still very much in the thick of things. Artwork is extra cool on this release. Derek Riggs delivered the goods on this one to make this album very eye pleasing. Lyrics are included as is band photos.

Judging by early estimates, this release will do very well for Iron Maiden as well as the genre in general. It is very powerful and I didn't find a weak track on the disc. Get this disc and play it loudly. The mighty Maiden Metal Machine is rolling hard again and is not gonna take any prisoners!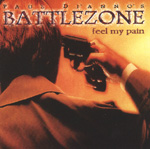 Paul Dianno's Battlezone-Feel My Pain

                                   ©1999 NEMS

How about something Iron Maiden related to fill the right side of the page?? Many Iron Maiden fans have remained Paul Dianno fans after his departure in the early 80's. I just happen to be one of those. I thought I would review one of his newest efforts "Feel My Pain."

In the mid 80's Paul Dianno formed Battlesone and released some material. When the 90's rolled around he offered us his band Killers. Well, Battlezone is back and meaner than ever.

'Feel My Pain' contains 9 heavy tracks including 'C.O.M. 98' which older fans will remember as a new version of 'Children of Madness".  The album is very heavy, in fact, could be Paul's heaviest stuff to date. I like everything about this album except when Paul growls a bit. His voice is to good and he is established enough that I didn't think it was totally necessary. That aside, this album is a winner. I was definitely rocked by the end.

The album sounds decent with a lot of crunch and rawness to it. Paul still sounds great and hasn't really missed a beat. The cover won't win them any awards with groups like the PMRC types, but serves a purpose. Band photos and lyrics are included.

The album is available through Century Media and is definitely worth checking out especially if you are a Paul Dianno fan like I am. This effort shows what good heavy metal is all about. Pick it up!