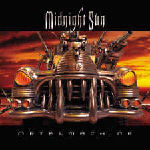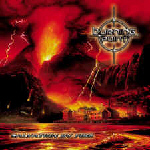 Midnight Sun-Metal Machine

       © 2001 Limb Music Productions

Burning Point-Salvation by Fire

            © 2001 Limb Music Productions

The Info

'Metal Machine' is the fourth release from Swedish rockers Midnight Sun and features new vocalist Jakob Samuel. Also in the band is Bassist Jonas Reingold, Guitarist Magnus Karlsson, and Jaime Salazar who is also a member of The Flower Kings. The music on this album draws on some familiar infuences yet remains very unique in sound and style.

The Music

Now when I mention a band drawing on influences, there are quite a few in this album. This is basically my opinion on what they are. I hear some Manowar, Maiden, even some Slave Raider. This release makes the band kind of hard to nail down. One thing that is for sure is that it is all great hard rock 'n roll. Some of my favorite tracks on this one include 'Steel to Steel' which is true Metal and sounds a bit Manowar-ish, 'Metal Machine', the proficient 'Distorted Eyes', and the anthemic 'Metal will stand tall'. This band definitely embraces their sound with a certain sense of confidence. Throughout the album is a consistency that makes this album a clear winner. As with a few of the Limb titles there is also a hidden track which is very well done. Not too hard to find though.

Overall

Another postive signing by Limb Music Productions. The band is technically proficient and writes some very good material. Artwork is kind of cool as well. If you are looking for something very cool and slightly out of the norm, these guys are good bang for the buck. Definitely give it a spin.

The Info

Finland's Burning Point add their names to the growing list of Metal bands coming from one of the great markets of the genre. With the bands debut offering 'Salvation by Fire' they seem poised to make their mark on the metal community and a lot of noise. The band is signed with Limb Music and released in late 2001.

The Music

Burning Point are very typical of what you would expect from the Finnish Metal scene. Aggressive, melodic music with a lot of grit. The band embrace a style in which is straight forward. You might wonder if they sound like other acts from the scene. Well, yes and no. The band has the raw ability to pull off what the others are doing, but seem to feel at ease in playing their music more traditional. Tracks that I personally like include 'Under the dying Sun', the gritty 'Lake of Fire', 'Black Star' which has a tempo similar to Dio-era Black Sabbath, the quick 'Stealer of Light', and the awesome album closer and title track 'Salvation by Fire' which embraces several tempos. Once again there is a hidden bonus track. This track is a gem. Love the groove. Make sure you don't miss it on the album.

Overall

I am amazed at the quality as well as quantity of acts coming out of Finland. What makes the scene great is the variety of styles in the scene as well. As mentioned, Burning Point are a bit more traditional in their approach, but are very good as well at what they deliver. This is a pretty damn good debut effort and should be a worthy addition to any metal collection.