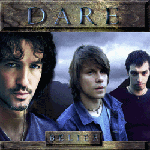 Dare-Belief

© 2001 MTM Music

The Info

'Belief' is the fourth album from melodic rockers Dare. The band is fronted by former Thin Lizzy frontman Darren Wharton and at one time featured Ten guitarist, Vinny Burns. The band went on hiatus some years back, but has returned with a couple of great albums that are a bit light, but extremely solid and very ear pleasing.

The Music

The music that Dare has been embracing recently can be described as melodic, encompassing, and very rich sounding. On this new disc the band enters in some Celtic influences such as using whistles and pipes. Tracks that offer this feel include 'Silent Thunder', 'Dreams on Fire', and 'We were friends'. The useage of the Celtic instruments is traditional, but slightly different in each track. It's a very nice enhancement to already well written music. The rest of the album is very consistent in sound and structure with 1998's 'Calm before the Storm'. The music is fresh and vivid.

Overall

If you are looking for something to rock your block off, this probably won't suffice. If you are however looking for something with a tremendous amount of depth, this will please. The album has a very cool vibe throughout and will be just what the fans wanted who like Dare for what they bring to music. The albums take a while to get to us, but are certainly worth the wait when they arrive. Highly recommended!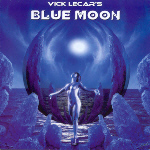 Vick LeCar's Blue Moon

       © 2000 Vick LeCar Music

The Info

Vick LeCar offers up a very good serving of hard rock that has some great influences, but really stands out on it's own due to his passion for solid writing. This album is offered through Record Heaven music. Giving this album a good spin will definitely give you an idea of the magnitude of LeCar's talent. Vick also did the busy work such as producing and mixing and the results are great!

The Music

Listening to this album will give you an idea of the influences Vick draws from. You get a dose of Deep Purple here and there along with many other classic rockers. You also get a bit of familiarity with some traditional hard rock sounds. The guitar work is really cool too. It is done just about right. Not too much flash where it is not needed. Very proportional structure. Some of my personal favorites include 'I don't want you', 'Son of a Witch', 'Take my hand', 'Run like a river', 'Turn and burn', and 'One more shot' which has one of the coolest solos on the album not to mention some of the dirtiest guitar sound.

Overall

If you are not familiar with Vick LeCar yet, you should really give him a listen. His music has it's influences, but really is all his own. The vocals are great and the rest of the band really get the job done. Another great release with an honest approach. Way to go Vick!