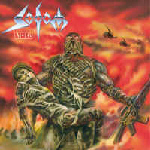 Sodom-M-16

© 2001 SPV/Steamhammer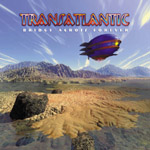 Transatlantic-Bridge across forever

                   © 2001 Radian Records

The Info

Sodom has really become legendary in the aggressive metal genre with a very solid 20 year career. The band is German and write their music with some very interesting war related subject material that s very evident on the new album 'M-16'. The album covers many angles of the Vietnam conflict. The band recently took a tour of a lot of the war related sites in Vietnam and put together a very worthy effort.

The Music

To know Sodom is to love Sodom. Very few bands can claim the consistency that this band has displayed over their lengthy career. Remaining true to the origins of their sound is 'M-16'. Wasting no time getting this album off, the band slams into the ultra heavy 'Among the Wierdcong'. The music on this album will definitely appeal to classic Slayer fans. Musically as well as lyrically, this album is a giant. The coincidence of an album of this nature coming out at a time when there is actually a lot of conflict going on right now is definitely ironic, but not intentional. As touchy as some of the material is, the band grasps it well and paints a visual presentation with the music. Tracks like 'I am the war', 'Minejumper', 'Cannon Fodder', and 'Marines' really ascert this album's intensity. For those looking for lighter material, this album is definitely not for you. The band writes music loud and proud.  My favorite track... 'Marines'. This tune has a very good feel to it throughout. It is disciplined, yet relentless. Qualities that make this album a good bet.

Overall

I really dig this album. I have been listening to a lot of very intense albums recently and feel this one is very competitive and top notch. Like I already mentioned, there is a ton of aggression here. Very angry music, but very traditional to the Thrash sound that was prevalent in the late 80's an is still commonplace in many markets outside of the U.S.. One of the years best in your face releases!

The Info

For those not aware, Transatlantic is a progressive supergroup of sorts featuring Mike Portnoy of Dream Theater, Roine Stolt of the Flower Kings, Neal Morse of Spocks Beard, and Pete Trewavas of Marillion. For those who like their progressive music, you will definitely have an interest in this one, especially with the lineup. This is the band's second studio effort and is avaialable through the Radiant Records label which is distributed through Metal Blade.

The Music

One look at the track listing on this album and you might think the band is a bit short on material. However, the four tracks on the album are rather lengthy with two of them checking in at over 25 minutes each. 'Duel with the Devil' is the first of these. This band showcases some very good music with a lot of progressive change-ups. The song breaks down into five parts. The thing that stood out to me is how you can get the feel of each members input. This is consistent throughout the album. The band also draws from many influences, especially the 70's progressive movement. 'Suite Charlotte Pike' chimes in at just over 13 minutes and is broken into five parts. The shortest track still runs five minutes and is a great sounding ballad called 'Bridge across forever'. Very heartfelt with a lot of grace. The final track 'Stranger in your soul', is the other 25 plus minute epic that breaks into six parts. The album is definitely a musical journey by some very good musicians and songwriters.

Overall

Fans of the progressive genre will really roll their ears in this album. This band has earned a tremendous amount of respect from fans and critics alike and this album will only cement this notion. If you haven't heard these guys yet, you probably should check them out. Very worthwhile release.