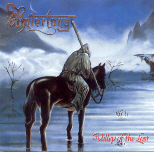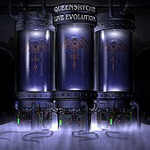 Queensryche-Live Evolution

         © 2001 Sanctuary Records

The Notes

This band really needs no introduction. Queensryche has been a huge favorite of mine for a very long time. The band really helped put Progressive metal on the map, although I think they really have defined their own unique style that many have tried to mimic, but have failed miserably. This album is a 2 disc live set that is released in both digi-pak and jewel versions.

The Tracks

This live album is broken down into two discs and four suites. The copy I have has a few track order mistakes in the first suite, but the newer pressings are suppose to be correct. The first suite is the 'ep/warning suite'. What is really great about this suite is tracks like 'NM156', 'Roads to Madness', and 'Queen of the Reich' which have been slightly neglected live before now. They sound pretty good too. The tracks 'London' and 'Screaming in Digital' are listed in this suite, but are after the ep and Warning tracks so I am sure this is where the print error is. Should have been included in the second suite 'Rage/Mindcrime suite'. This second suite is very 'Mindcrime' heavy which is fine as it is the bands most technical achievement. The third suite 'Empire/Promised Land suite' is very Empire heavy, but does include 'I am I' and 'Damaged' from Promised Land. The fourth and final suite 'Hitnf/Q2k suite' is my least favorite as I was a bit disappointed with the direction the band took as many fans were. I do however think they chose the finer moments in the track selection which includes tracks like 'Sacred Ground', 'Liquid Sky', 'Breakdown', and 'Falling Down'.

Overall

This album is pretty cool to say the least. There is a dvd release offering up the video portion of the performance from the Moore Theater. This is a pretty cool representation of the band live as well as some of their best material. Now all we need is a new studio album that will rival some of their earlier material and there will be plenty of smiles to be found. Recommended!

Winterlong-Valley of the Lost

                   © 2001Lion Music

The Notes

Winterlong is a Lion Music signing that fits into the melodic power metal genre.... sort of. These guys are not your conventional power metal act. Sure the roots are there, but the music gets a bit more aggressive and crosses over to speed metal. Don't you hate to classify and try to pidgeonhole??  Anyway, the band formed in 1998 and are ready to turn some heads with their new release, 'Valley of the Lost'.

The Tracks

As mentioned before, these guys are a bit different than the conventional melodic power metal music. The album starts off with 'From Heaven to Hell' and gives you every indication that they are going to fit that genre, but shift gears a bit. 'Winterlong' is a bit majestic in it's feel, but gets into those familiar riffs from days gone by. The tune has some Manowar in it as well. 'Nosferatu' is another thundering number with some great guitar work. That is a point really worth mentioning. There is some really good guitar work on this album. 'Sky Traveller' reminds a bit of something Gamma Ray would do. Quick rhythm's and bold vocals. 'Valley of the Lost' builds and then sustains a pretty heavy tempo. 'The Water Spirit' deals a fair amount of melody without losing intensity. For the more light and melodic moments, look to tracks like the short 'Victory' which acts as an intro of sorts to the heavier 'Written in Blood' which also has some cool keyboards that add depth. Lars Eric Mattsson guests on a couple of tracks including this one and handles production duties. The other lighter track is the album closer 'Driven by Insanity'.

Overall

For as new as this band is they show a great amount of aptitude and tightness. Vocally they remind me of Manowar. Some of the lyrical content reminds me of them as well. I believe this band has a lot of potential and is worth checking out especially if you like melodic power metal. This is a good signing for Lion Music. Watch out for these guys!