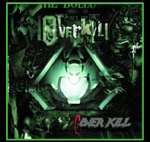 Overkill-Coverkill

© 1999 CMC International

This band rocks! I have been a very big Overkill fan since the early days and seeing them open for Megadeth on the Taking Over tour. The best point to be made about Overkill is their consistency. They have remained true to their form thru all of the trends. If you like it heavy, Overkill is your band.

On this disc Overkill wanted to pay tribute to their influences. This is a strictly cover oriented album.

The disc opens with their rendition of Motorhead's "Overkill". This is cool, after all, where did they get there name?? Very cool version. Next up is "No Feelings" from the Sex Pistols. Very fitting considering that theyclaim they are half influenced by early punk and metal combined. Track 3 is Jethro Tull's "Hymn 43". It does justice.  "Changes" is an interesting take. There is no piano player in Overkill. All of the piano is converted to Bass. D.D. Verni handles it very well. Yes, this is the Black Sabbath classic. Speaking of classics, "Space Truckin'", "Duece", and "Never say die" are next and are very well done. There is even a Manowar track here. "Death Tone" brings out the classic early 80's metal sound. Up next, "Cornucopia". I wasn't too familiar with this one, but one listen will tell you that it was a Black Sabbath tune. Very grungy. Finalizing the disc is Priest's "Tyrant" followed by "Ain't nothin' to do" by the Dead boys and finally "I'm against it" by the Ramones.

This album does all tunes justice. It is heavy as well. If you don't like cover tune discs, this may not be for you. If you like your butt kicked and dig great metal bands, check it out.

Britton-Alien Romper Room

           © 1999 Songhaus

Michael Britton is back with another great chapter to his story.  Relying on his winning formula for writing great 80's flavored hard rocking tunes, he gives us another winner.

The album opener "Open your heart" starts off with a meaty guitar sound. Good deal already. The tune is a strong tune in the vein of Dokken. On to my personal favorite track "Alien Romper Room". This is the track in my opinion that could break these guys with the right promotion and radio play. This tune is an all-out jam session. "I Wanna know" is a power ballad type tune with some good rockin' choruses. The vocals start off on this one sounding a bit like Jani Lane of Warrant. Mike is a pretty good vocalist. He sings in a variety of styles on this disc. "This won't hurt a bit" is a classic 80's style track. Good melodies and thick sound. "Who's your Daddy" is quite a party track that reminds me alot of Contraband. I think Mike sounds a lot like Richard Black on a few tracks on this disc. "Barfly" is another fav of mine. Reminds me a hell of a lot of April Wine in the Nature of the beast days. There sure seems to be a lot of cool elements, eh?? Back to the review. "Destiny finds us" is an easy going tune in the 80's vein. This track has potential radio popularity as well. After all don't you need a track to flick your bic with at the shows?? Next up is "Body Shot" which has party tune written all over it. It has a great groove displaying the talent of all members combined.

The remaining tracks consist of 2 original tracks and a cover tune. The originals titled "Queen of the Dark" and "Angel" are very much in the vein and feel of the rest of this disc. It just continues to solidify this album and the consistency from start to end. The cover tune is Three Dog Night's "Shambala". I can't think of a more fitting way to end this disc. This cover tune is awesome. Vocals are excellent and the band fills in to make this song really shine. I really recommend this disc.