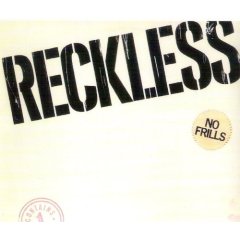 Illusion

'Illusion'

Released on Geffen Records in 1985

Reckless

'No Frills'

Released on Valentino Records in 1987

Anytime I mention the band Illusion people always seem to mention the album 'I Like It Loud'. Seems to be the more well known of the two albums. I had actually jumped on this bands bandwagon (pardon the pun) with their self titled debut release that hit the music scene back in 1985 via Geffen Records. Geffen actually had alot of great stuff back in that day. Think about all of the earlier Black 'n Blue albums and you'll know what I mean. Anyway, I always felt that the band's sophomore release was weaker when compared to this album. This album was very strong with great sounding flashy hard rock from the day. The album set the pace early with 'Get It To Go' and really never let the listener go. I have always been under the opinion that a bands debut album tends to be there strongest album due to the amount of time a band has to write songs and then continue to refine them until a label is secured. This album is no exception to that premise. It was interesting to see the song 'Call In The Law' appear on the bands second release as well as this album. I think the band felt the song had hit potential and with hardly anyone knowing that their debut album existed, they gave it a second go. That is obviously my opinion, but feel it may not be too far from accurate. Some of my other favorites included 'Bad News', 'You Got The Touch', and when you get to the second side of the album, it really starts to heat up. I absolutely loved 'Next To You'. That song just totally rocks out. 'Saint' was another great track.  As far as the lighter tracks, I really like 'Go On Your Own Way'. This was a great way to close the album. It is unfortunate that this band didn't get a bit more attention. I definitely knew who they were, but others only knew about their second album. I would love to see this get a bit of love by way of reissue to compact disc, but to this point it doesn't look like it is going to happen. At least I haven't seen anything anyway. This was a truly classic 80's hard rock album that will always be on of my favorites anyway!

Questions or Comments? Email us by clicking
here
.
Reckless was one of the later 80's hard rock bands that found their way to the scene with a little help from Mark Mendoza and Jay Jay French of Twisted Sister. These two veteran rockers put the production touches on 'No Frills'. The band had a decent melodic hard rock sound with a bit of edge in areas. While it may not have been the perfect album in it's day, it did catch my attention and stay in regular rotation for quite some time. Musically, the album fit quite well with other acts of the time. With the backing of theis album in terms of distribution, production support and the such, it's really too bad that it never went further then it did. The album opened up with the track 'Nitty Gritty' which was a catchy hard rocker. The album has plenty of the rocking tracks with only 'Deadly Game' that even hints of approaching a ballad, but never quite makes it. The music had a really even feel to it. 'Voices in the Night' was one of my favorite tracks. The song was probably the most driving rocker of the bunch in my opinion. It's the one track that I wanted to here over and over. There were others as well that I liked well such as 'Wild in the Streets'. Good melody with a gritty sound. 'Crazy Over You' was a radio friendly rocker. This was an instantly memorable mid-tempo rocker. In a nutshell, this album was consistent in terms of sound. I happened to talk to Gary Kriss through email about 2 years ago now. He mentioned that he was shopping the album for reissue. From what I understand, there is a version currently out on compact disc, but I have not heard it nor can I vouch for it's credibility from a sound quality standpoint. If you do search it out, just keep that in mind. Some of these albums can be very hard to get out of the vaults and it is very unfortunate that this is the case. Anyway, This was a very decent effort that to me stood out back in it's day when the scene was overflowing with melodic rock acts. Brings back some great memories!

Questions or Comments? Email us by clicking
here
.