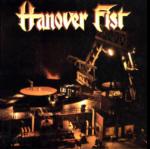 Hanover Fist

'Metal of the Night'

Released as 'Hungry Eyes' under Hanover circa 1985

As I go back through my collection of music from many years back, there are always certain albums that to me stand the test of time. 'Metal of the Night' by Hanover Fist was one of those. This album was only released on a very limited foreign pressing and then pulled back right after. The band then went to the name Hanover, dropped a few tracks, added 'Fits Ya Good'. I didn't really know much about the history of this band, but in time
connect
with Frank Zirone, the lead vocalist and did a project for the site with him. 'Metal of the Night' was the vision of the band. If you hear this album the way it was suppose to be, you will understand just how things weren't quite right. The album actually started with 'The Maze' which was always one of my favorites. It was followed by the track 'Metal of the Night' which was the subject of a Mtv video which I had never seen until about a month ago. Shows you how much love Mtv had for good bands eh? Anyway, that track also appeared in the move 'The Wild Life' in 1984. Some of my other favorites from this album included 'Standing Six' which was a great headbanging bliss type of tune, 'Rock Bottom' with it's thumping low end, 'High Speed Roller', 'Lookin' for Love' which had a very catchy vibe to it, and 'Fits Ya Good' from the 'Hungry Eyes' version. The two tracks that were eliminated from the album were very solid. You had 'Don't Let It Stop' which fit the album well, and in more ways then one. This song actually had a blend in with the track 'Standing Six' via the rain fall you hear. After hearing this album complete, you notice how it had something missing in the 'Hungry Eyes' version. 'Should Be Rockin'' was the other missing track. This tune had a bit different overall feel from the rest. To me it has a more upbeat feel where the rest of the album has a slight darker tone to it. I would loved to have been able to heard this album from day one as 'Metal of the Night', but I guess 10-15 years later still worked as well. Very solid stuff in my opinion. A real rock gem from the past!
Questions or Comments? Email us by clicking
here
.
Billy the Kid

'Sworn to Fun'

Released in 1985 by MCA

As much as one scours the internet, it is always a bit hard to find information on bands like Billy the Kid. I used to take alot of chances on music I had never heard in the mid 80's. I was a bit rabid for more. Couldn't get enough. 'Sworn to Fun' was one of those chances. It ended up having a nice impact on me that has lasted the years. The thing that stood out for me with this release was the guitar work of Billy L'Kidd. At the same time Jeffrey Velvet would have to be mentioned as he worked very well on the bass as a complement to L'Kidds speedy rhythms. Take for an example my favorite track from this album 'Rock You Up'. There are some nice bass and guitar runs that really make this track what it is. Some interesting tidbits about this album include the fact that Pat Regan played keyboards for this release as a guest. The album was produced by Duane Baron who also offered a few background vocals as well. Randy Delay, the bands drummer resurfaced later with the Kentucky Headhunters and Drivin' and Cryin'. Delay apparently passed away sometime after that. Stephen Fredrick resurfaced later in the band KenZiner. This album was in my opinion, never promoted well enough. I really liked it and thought it was much more fun then some that were being thrown out by the labels at the time. The band made a run of it with 'Sworn to Fun' but eventually broke up. Some of my favorites from this album included the opener 'When Hell Freezes Over' which was always memorable for days after. 'Rock You Up' as already mentioned. 'Go For Your Guns' was another quicker tune with a cool solo. 'Heart of Steel' was another great guitar driven tune with a thumping bass in the low areas. 'Plenty' was always the most catchiest of the album in my opinion. I think this may have been the most radio friendly of the album. The album closer 'Off With Her Head' was another cool no frills rocker. The band in my opinion made something that became very memorable to me. It was a shame it didn't go anywhere. Another classic nonetheless!

Questions or Comments? Email us by clicking
here
.