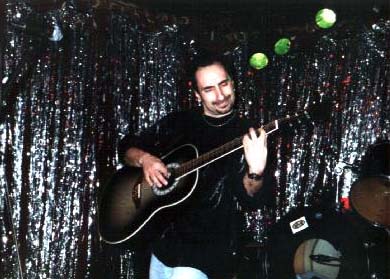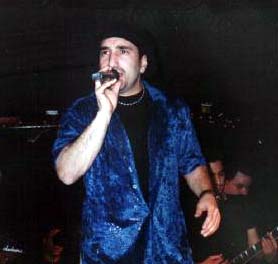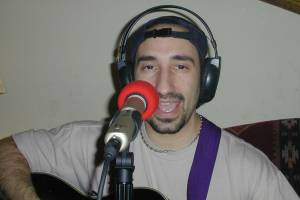 John Taglieri-Back in the Spotlight

I had a chance recently to get together again with John Taglieri, our favorite AORster, for a chat to find out where things are at these days. John is definitely one of the busiest guys I know, so I would like to thank him for taking a few minutes out of his schedule to give me the scoop.

Dave: Hi John! It's been a while.

John: Hey Dave!! Thanks For doing this interview! I really appreciate it!

Dave: 'Leap of Faith' is finally getting a full U.S. release. What was the delay??

John: Well, as of the time we are doing this, it's actually still not out!! It's been out in Europe since July 31st of 2000 and things just have not materialized as far as getting the proper support to release it in the US. The label has had problems with the distributors getting on the same page and they have actually changed distributors twice, I think, trying to get this resolved. But here we are almost a year after the Euro release and still no US stores have the CD in stock. It's kind of frustrating for me as I want to gear up for my next CD, but can't until this one is out and running. Otherwise the distributors won't look at my next CD so soon. I have had all kinds of discussions with A2 in regards to this matter, but nothing ever seems to get done. It's really kind of frustrating.

Dave: Are there any changes from earlier formats?? Like track lineup or artwork??

John: Nope. It's the same exact CD that has been out since last year, which is why I'm so surprised that the label is pushing so hard to get it released here. Unless I tour the hell out of it, I really can't see it selling much more than it already has, and it's done really well so far overall between the independent release and then the subsequent release on A2 Records.

Dave: Are they gonna distribute the album through major distribution like Valley Media??

John: They are using Valley for all of their future releases, but with all the problems they've had getting 'Leap' out, they settled on using Select-O-Hits to do this one. They hooked up with them through a contact of mine. Still so far, it's been months of talking and the CD isn't out.

Dave: Dave Tedder from Manipulation Marketing is handling a lot of the A2 catalog from a marketing standpoint. Any interesting plans to push 'Leap of Faith' in the U.S.??

John: No, not really from what I can see. They are hitting all the smaller fanzines that were not solicited when I originally released the CD. For the most part, I had already hit all the press when I did my promo push, so there really isn't all that much of the major melodic rock press that hasn't already given the CD press in some way or another, be it reviews or interviews. So Dave is going after the smaller ones in the US and trying to drum up some additional interest that way. We don't really have the money to support any touring, but we knew that from the start. This was a very grass rooted release for A2 and myself. We have done well with what we have had to work with so far though.

Dave: Are you going to try to go to radio for a boost??

John: There really isn't any budget for radio, although I have done some college radio shows to support gigs that I have been doing. They've been successful in getting people to the shows, so that's nice to see.

Dave: I hear you have been busy doing some side stuff with talent scouting or something along those lines. Can you fill us in??

John: Well, after seeing how successful my company,
Leap Dog Music
, was in getting all the press and PR for 'Leap', I decided that I could do it for other acts. So I have opened the doors to other bands to come in and have me do web based promotion for them. It's starting slowly. Getting the word out is tough and we all know that bands don't always have the money to really do a lot of promotion! Hell, I did mine on $0.00 budget and just spent a LOT of time working my ass off. So, I've spoken to a few bands so far, and am trying to start to establish a client base to really get the name out there!
Dave: Summer touring is always a great subject to tackle. What kind of gigging are you doing this summer?? I have heard that you have been on some cool bills recently as far as shows. Who have you been gigging with??

John: Well, I have some gigs booked throughout May, June, and July, but nothing really heavy. We recently opened for Firehouse and Randy Jackson and got a great response from the crowds that we played for. My band is really tight and puts on a solid show. We just really haven't had the financial backing to sustain any kind of serious touring. Who knows what the future will bring, but for now, I'm mixing in a few full band shows and a few solo acoustic shows each month to try to keep it going. So far so good and we're having a good time.

Dave: Guess you'll be attending and performing at Ultrasound 2001 this year. Will you be doing another cool acoustic set. Bet your hoping for another 110 degrees (ha, ha).

John: LOL!! Oh God, lets not go there again!! I'll be playing in the pool this year if that happens again! Man, I'll never forget that day as long as I live!!! I'm definitely going to Ultrasound again this year, but this time I'm bringing my full band with me so we can really put on a show!! I want to show everyone that said 'Leap' was light and that I do know how to Rock very well! The show is really high energy and only has 2 ballads in it. Plus the guys in my band are very visual and fun to be on stage with. I honestly can't wait to get there, also because it's a much bigger event this year and I'm going to have the opportunity to meet a lot of performers again, plus see a few from last year who are returning again also!

Dave: As busy as you are, just curious if you have been writing for a next album. It's been a while since 'Leap of Faith' was released overseas.

John: Well, like I said earlier, it's been almost a year since it released in Europe. I have been very busy, on top of everything else, writing like crazy for the new album!! I am using a co-writer on this album and bringing in some top notch players to play on it also, as well as all the guys in my band! I did 'Leap' alone for some very personal reasons, but now it's time to turn it up a notch and have fun!! The new album is totally rocking and there is not a 'soft' song on the whole thing!! There will only be 2-3 ballads out of 14 songs and really no mid-tempo ones. I want this album to really kick people in the ass and show them that I can take it to another level. 'Leap' was received so well and I'll never be able to thank all the webmasters and journalists that gave me all the great press and publicity and helped the album do as well as it has. But, the one recurring comment was that it was a bit soft. So, I'm making sure that this time, I'm going to blow people's doors off and definitely get some attention!! I'm talking to a new label about the possibilities for the next album and also talking to a big name to produce it. I'll spill the beans if things come to fruition, but it'll be a good thing if it does!!

Dave: You've definitely got my curiosity stirred up. How is the album doing overseas. There seems to be a decent market for good AOR out there.

John: Well, since I released it as an independent and then after A2 Records got behind it, the CD has done very well. We moved about 3,000 units total so far, and though not a huge number, for a debut and an indie album, I'm really happy with that number. The CD also was on the MelodicRock.com Top 30 chart for 4 months last year, so that was a great feeling for me to see my name and CD up there with all the top names in the genre. Things have been so good and I couldn't be happier!!

Dave: You recieved the Male artist of the year award for 1999 on the web and some awards in 2000. Congratulations! You work hard and definitely earned it.

John: Thanks!! That was a great honor for me to get that award! I also was 'Most Promising Artist for 2000' on one other website, so it's a great feeling to get accolades like that. It kind of validates all the hard work and effort that goes into the music and the career. It makes all the crappy times easier to deal with!!

Dave: John, Once again I appreciate the chat! Always remember that the Heavy Metal Resource backs you and your endeavors. Let's do it again sometime!

John: Dave, thanks for this interview and I hope that all of your readers will stop by my website at
LeapDogMusic.com
to see what is going on! We have revamped the site recently and it's getting a good response!
Talk soon! Watch out for the next album!!!