Exciter was a very loud, angry, pissed off band. Three guys with a lot of energy. A drummer that could pound the skins very well, while at the same time singing ferociously. So called 90's metal mutant bands need to go back in history and look these guys up. They could learn a few things.

I remember hearing the first track "Screaming in the night" on a Las Vegas radio station. I was hooked and had to find this album.

To some nowadays, this album may sound a bit dated, but to fans of aggressive Thrash metal, it is music to your ears after a very stale 90's era.

This album is consistently heavy throughout. Fans of early Anthrax, Metallica, and Megadeth, will dig these guys.

I was equally excited to get my hands on a CD reissue of "Violence and Force". I had to wait a very long time. It was initially reissued out of Italy on a very small indie along with "Unveiling the wicked". I managed to get "Unveiling the Wicked", but was screwed out of the Violence disc by a certain importer I will not name here. I will tell you that it is not Ram Music. Jim takes great care of me. Anyway, SPV out of Germany reissued it this year and I am very grateful.

The reissue is very basic but does sound very good.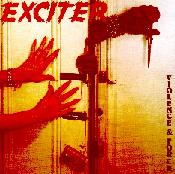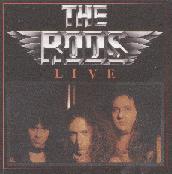 The Rods were probably one of the most underrated and overlooked bands of the 80's. There is a very cool connection in this band as well. David Feinstein the guitarist is the cousin of Ronnie James Dio. Very cool, eh??

High Vaultage Records in Germany has been busy at work reissuing cool stuff like this. They have done most of the albums by The Rods and done them very well. I would like to commend them on their work.

The Rods-Live believe it or not is my favorite piece by this band. I would sum it up as they are at their best on stage. Not to say that their studio work is bad, 'cause it's far from it. I just really liked this disc. I believe it was my first exposure to them. The sound quality is not great, but is decent as was the sound quality on the original cassette I had. You have to remember, this was recorded for a smaller label back in the early 80's. The sound is raw, and that is the way it should be. It shouldn't be polished, it's not totally live at the point.

The music is straight forward hard rock with a little Ted Nugent type flair.  It's really hard to pigeon-hole this band in style though. They were different in sound than most of the bands they toured with.

The reissue is very well done as mentioned in the second paragraph by High Vaultage. All of the original tracks are there along with some bonus tracks that are very old and worn. Glad to have them on a better format so they can be saved from years of decay. There is also a Record World Radio Spot as well as a WAAF Radio Spot and interview. At around 20 bucks, this disc is worth the price.

Exciter-Violence and Force

     © 1984 Megaforce Records

The Rods-Live

© 1998 High Vaultage