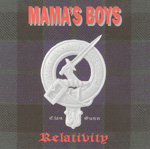 Mama's Boys-Relativity

  © 1992 Closer to music, Ltd.

Stone Fury-Burns like a star

               © 1984 MCA Records

It's really too bad that this album didn't get domestic release. The band had parted ways with Jive/Arista and that was where it ended in the States.

Relativity was released overseas in 1992 via CTM records. Another new vocalist was brought into the fold named Mike Wilson. The music was quite different on this release compared to earlier material. It is still heavy, but combines more Irish elements than what were used before. This album just has a different feel. It is definite Mama's Boys though. This would also be the last time Drummer Tommy McManus would record before losing his bout with Leukemia.

The music is very well thought out and written. I like the Irish elements in the track "Don't look back in anger". It is a slower tempo track that displays a lot of emotion. Gotta love this stuff. All of the tracks are very strong and fans of good solid rock would like this album.

The artwork is cool. Pretty fancy and there is a paragraph inside that explains what Clan Gunn means. You will notice the Clan Gunn on the fron cover. Not much in the way of lyrics. Sound is very good. Nice job on this album guys!

I really liked this album a lot and could see how the band progressed into Celtus. It marks the ending of an era that lands the band in slightly different direction. If you happen to run across this release, pick it up, it's well worth it.

This album brings back the memories. I can remember buying this on cassette when it originally was released. Didn't have a clue who they were, but I was very adventurous in my buying. I was pleased! Little did I know later what the two core members would give us. Kingdom Come and Unruly Child, not to mention many others.

The songs on this album were so well written and melodic, you couldn't help but dig this album. I was very pleased to see these for the first time on CD via Milestone Music & Point Music. I did land that compilation disc that contained tracks from both Stone Fury releases, but there is nothing like the originals!

One of my favorite tunes ever is "Life is too Lonely". I even remember a quote a long time ago from Don Dokken stating how much he liked the song. This is very good AOR. Most tunes are mid-tempo but all are well crafted.

The original artwork is here along with pix of the band. Song lyrics are included so you can sing along with the songs if that is your thing. Sound is very good. This really is a good release, as far as I know can only be bought through import retailers which is a shame. If you would like it, check out Ram Music. Jim is very honest and runs a good business. Price is a little higher than a domestic release, but is very much worth it in my opinion, especially for AOR fans.