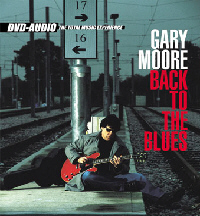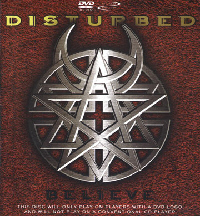 Gary Moore-Back To The Blues

© 2002 5.1 Label Group/Silverline Records

Disturbed-Believe

© 2002 Reprise Records

Specifications:

Audio Tracks-24 bit/96khz Dvd-Audio

                   24 bit/48khz Dolby Digital 5.1

Supplemental:

Liner Notes

Artist Photos

Sound Quality:

When I think back to when I first encountered Gary Moore, it was evident there was a strong Blues influence. My history with Moore doesn't go back as far as some, but I became a big fan of both his music and his technique. This Dvd-Audio is a Blues stunner. This is the side of Moore that has made him an influence on many. The Blues to me are full of emotion. A very emotion driven style of guitar and technical in its own sense as well. There is some very good shredding on this release, but also some very subdued guitar playing as well. I think Moore has put together a conistent effort with this release and if you dig heavy Blues based music, this one is definitely recommended to you. As far as the sound of the disc in surround, it sound pretty good. There is only so much you want to do as far as trick is concerned with this style of music. The emphasis here is more of a full bodied sound that adds much more than its compact disc counterpart. This is not to say that it's like stereo-wide of yesteryear. It's very full and consistent, just not flashy. I think it's a great sounding mix.

Overall:

I like emotion based music and that is what the Blues is. I new I would like the overall feel of this album just because I'm a Gary Moore fan and he didn't disappoint. There's some upbeat tempo Blues rockers as well as some very subdued emotional tunes that mix the feel of the album up well. The mix is sufficient and sounds better than what the compact disc offers. As far as extras, they are slim. What is there is interesting though. The liner notes are on the screen as the song plays and gives the listener a bit of an inside on why the song was written and when. It's a nice touch. There is also a bit of liner notes with a brief history of Moore's career in the main menu. There are also some nice artist photos on the disc. This album is definitely written for Blues fans but crosses over to Rock fans very nicely. Definitely check it out if it's your thing!

Specifications:

Audio Tracks-24 bit/48khz Dvd-Audio

                   24 bit/44.1khz Stereo

Supplemental:

'Prayer' Video

Behind the Scenes-'Prayer' Video Set

In the Studio Recording 'Believe'

Highlights From Disturbed's DVD 'M.O.L.'

Sound Quality:

I really have become a big fan of this band. Disturbed won me over with their debut 'The Sickness' and 'Believe' just took it a step further. Some fans questioned the bands direction with this release, but I view it as a natural progression that is necessary to keep a bands career moving along. The album was still heavy, but the vocals were much more melodic with a few exceptions like 'Liberate'. Overall, I think the band did a fine job with this album. Looking at the mix, I am a bit puzzled. I am a bit curious why it was mixed for Dvd-Audio in only 48khz. Most Dvd-Audio's are hitting the market with a 96khz mix. As I mention this, I would also like to mention that it does sound great. This mix far surpasses the compact disc mix with a solid low end and it's cool to hear guitar all the way around. The 44.1khz mix is a waste of space in my opinion. If you are forced to listen to that mix you're just as well off with the cd so the 48khz sound is far better and my choice. I just feel the music would have been further enhanced with a 96khz mix. Both mixes are 24 bit however which helps.

Overall:

A definte improvement on the compact disc, but not as good as it could've been in my opinion. The main soundtrack is very full and uses some surround to achieve the fullness. If you missed the limited edition of 'Believe' on compact disc that came with the companion DVD, this disc is for you. The video is here and mixed in Dolby Digital 5.1. It sounds great. There is also the same behind the scenes look on the video set. There is an in the studio section that shows the band in the recording process of the album that is fun and informative albeit short. There are also a few highlights from the bands DVD 'M.O.L.' which I recommend as well. Overall, I think the extras help balance the disc and make this a definite must have especially for fans of the band. Now we want 'The Sickness'....please?