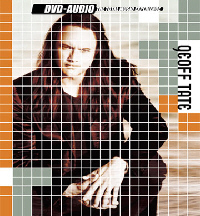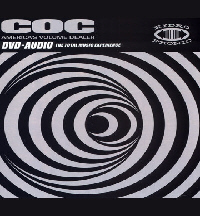 Geoff Tate-Geoff Tate

© 2003 5.1 Label Group/Silverline

COC-America's Volume Dealer

        © 2002 Label Group/Silverline

Specifications:

Audio Tracks-24 bit/96khz Dvd-Audio

                   24 bit/48khz Dolby Digital 5.1

Supplemental:

'On The Record, Off The TV' Video

Photo Gallery

Band Bios

Lyrics

Sound Quality:

If there ever was an album recorded that was just begging for multi-channel support, 'Geoff Tate' is one of them. The music on this album is definitely different from his well known band Queensryche. It is very atmospheric with a lot of mood element. Tate experiments with a variety of styles and all to good effect. It is important to mention that it is still Geoff Tate and that it isn't a total departure from what he normally does. The main difference between the compact disc and this disc is a whole lot of warmth to the sound. This disc does play a bit more with the sound and this is the kind of disc that benefits from active surround usage. A few examples include my favorite track 'Helpless' and 'Grain Of Faith' with its sound traveling around the room in parts. Silverline continues its usual trend of great mixes with this one. Seems with each release they keep getting better and better and this one's a dandy.

Overall:

If you are thinking about hopping off of the fence and want to get a great first disc, this would be a good choice. Although not totally like Queensryche. there are moments that definitely parallel. This disc will definitely utilize the speaker setup well and will really fill the room with sound. The mix is good and won't disappoint even thos who are a bit picky. The video for 'On The Record, Off The TV' rings in around 5-6 minutes in length and is informative for as short as it is. You get your usually goodies such as lyrics, photos and bios. A pretty complete disc that should be in all multi-channel collections. Definitely recommended. Now I can't wait for the latest Queensryche to hit Dvd-audio which is in the pipeline.

Specifications:

Audio Tracks-24 bit/96khz Dvd-Audio

                   24 bit/48khz Dolby Digital 5.1

Supplemental:

Lyrics

Scrapbook

Biography

Sound Quality:

It really blows you away how long COC has been around now. They have a pretty lengthy history now and 'America's Volume Dealer' is the most recent chapter studio-wise. The band offered up 'Live Volume' as well recently. I really like these studio mixes that are coming out. Live discs are mixed for a bit of a different feel obviously. The studio efforts are mixed a bit more powerful in my opinion and this one is no different. The mix on this album is a good balance mix. Nothing overly flashy. Everything that is channeled is done for the overall quality feel of the release. It's a powerful mix with the attention on each channel being proper with concentraion on a good match of the music and the flow of sound to each channel. As far as the music itself, it is raw and a bit different than what the band was doing a decade ago. Not to worry as it is still heavy and very much COC. I think the music the band is churning nowadays is a bit catchier than the older stuff although I do like most of their albums equally as well.

Overall:

This disc is without a doubt the best way to listen to this release. There is just something about broadening the sound that adds to the listening experience as a whole. This release definitely has it on comparing it to its compact disc companion. I don't really see anything to complain about mix-wise. I think that a job was well done and should please most that buy it. As far as the supplemental end of this disc, it's not huge, but adequate. The usual offerings are there for a Silverline disc. Another worthy addition to one of metal's largest multi-channel catalogs.