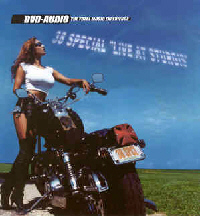 Corrosion of Conformity-Live Volume

           © 2002 5.1 Label Group/Silverline

.38 Special-Live at Sturgis

        © 2002 5.1 Label Group

Specifications:

Audio Tracks-24 bit/96khz Dvd-audio

                   24 bit/48khz Dolby Digital 5.1

Supplemental:

'Diablo Blvd.' Live Video

C.O.C. Timeline

Artist Photos

Sound Quality:

Corrosion of Conformity in my opinion are one of the more under-appreciated bands on the scene today. The band has been doing it for 2 decades now and have delivered the whole way. What you get with this album is what the band calls a documentary of sorts. It is a pretty unique album with what sounds like radio interviews that lead into a few tracks and give the listener a bit of info on the band. The mix sounds really good. I've seen this band 3 times and had the sensations of being there live with the way the surrounds were utilized. The last time I saw them was at the old Saltair facility that sits on the Great Salt Lake. The sound reminded me alot of that night with the echo and reverb bouncing out of the rear channels. Very nice effect. The mix also displays a nice low end to add the punch to the mix. You can close your eyes with this mix and feel like you are there which is the magic of multi-channel sound. Live albums are now being delivered the way they were always meant to be heard.

Overall:

This was a very good live album before I heard it on Dvd-audio. I really grew an appreciation for what C.O.C. is about after the many times I caught them live. These guys are exceptional in the live due to their already raw sound. This new disc is a nice addition to my catalog. It has a cool video from the show of 'Diablo Blvd.' as well as a 10 page timeline and some cool photos. Didn't know these guys liked to fish. Never would've guessed. Anyway, this is the best way to hear this album without a doubt and should grace everyone's metal collection. Great stuff!

Specifications:

Audio Tracks-24 bit/96khz Dvd-Audio

                   24 bit 48khz Dolby Digital 5.1

Supplemental:

'Wild Eyed Southern Boys' Live Video

Bonus Track 'Just One Girl'

Biography

Liner Notes

Artist Photos

Sound Quality:

If you really don't understand the impact that .38 Special has had in their career, pop this disc and it will clear the fog for you. This band has had many hits and was a real Southern Rock force in the 80's. The band are still together and played the Sturgis Rally in 1999. If you are not sure what that is, its a hell of a lot of bikers and bike fans alike that gather at what is now a family oriented event, but used to be a bike racing event. The band take the stage at the Buffalo Chip Campground and have never sounded better. The mix is good and seems to go more for clarity. Surrounds are not as active as some of Silverline's other stuff, but still sounds good. The bonus track 'Just One Girl', is a brand new studio track that's not bad, but doesn't hold the caliber of other hits such as 'Hold On Loosely' and 'Back Where You Belong'. The nice thing about this track is that it is also mixed in Dvd-audio resolution. One thing to point out about this mix is that with the surrounds not being as active it could be for a good reason. This was an outdoor show. It's totally different in terms of sound than an indoor show, so bearing that in mind, the mix was done proper to bring the show to life.

Overall:

This was the bands first live album after a very long wait. The crowd was very responsive which made the show even better. The video that is included for 'Wild Eyed Southern Boys' is crystal clear and was compressed well. I am sure that is was probably taken from the companion live dvd, although I haven't seen that one yet. The biography was fairly thorough giving insight into the band and their history even down to the point of how the band got their name which was humerous by the way. The liner notes are your information on the Sturgis Rally and it's history and is also worth the read. All in all a very nice disc that should make the bands happy from a multi-channel standpoint.