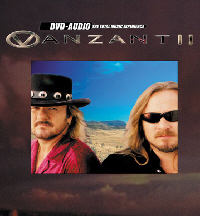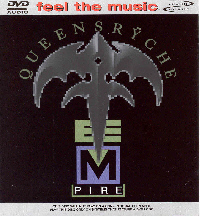 Queensryche-Empire

     © 2002 EMI Records

       Van Zant-II

© 2003 Sanctuary/Silverline



Specifications:

Audio Tracks-24 bit/96 Khz Dvd-audio

                   Dolby Digital 5.1

                   DTS 5.1

                   Advanced Resolution Stereo

Supplemental:

Geoff Tate & Chris DeGarmo March 2002 Interview

Biography

Music Videos 'Silent Lucidity' & 'Jet City Woman'

Lyrics

Photo Gallery

EMI Discography

Sound Quality:

This disc really has a wide variety of options for sound. The thing that amazes me is that all sound really good. You can't really go wrong with any of the sound schemes. The only one I wouldn't listen to is the Stereo for obvious reasons. No real issues with the mix of each scheme with the only exception that the vocals sound a bit too thin at times. Too much separation in my opinion, but this occurs fairly rare and it really is a minor issue. I wouldn't hold back on this disc at all due to that. As far as the music itself, it really needs no hyping. This is a great album and has always been one of my favorites. It's one of those few albums that never grows old no matter how many times I spin it.

Overall

This really is a must have Dvd-audio. Not only does the disc sound superior to it's compact disc companion, but there are quite a few extra goodies to make you happy as well. Two videos, lyrics that synch with the music as it plays, discographies, and a cool interview with Tate and DeGarmo in 2002 that was the first that I had seen since Degarmo parted ways a few years back. This really is a nice package. Now imagine if we could get 'Operation Mindcrime' in Dvd-audio. That would be a must! Great disc!


Specifications:

Audio Tracks-24 bit/96khz Dvd-audio

                   24 bit/48khz Dolby Digital 5.1

Supplemental:

Artist Photos

Lyrics

Artist Notes

Sound Quality:

With each release, Silverline seems to turn it up a notch. Van Zant's latest effort and second under the Van Zant moniker is a stunner! For those unaware, Johnny Van Zant fronts Lynyrd Skynrd and his brother Donnie was a founding member of .38 Special, 2 great rock and roll bands that everyone has probably heard at one time or another. This album follows up 'Brother to Brother' and really is a great album from a songwriting standpoint. I really liked every song on this album. Where this album really shines is the mix. The sound is powerful and utilizes the surrounds very well. This album is a great example of how to obtain good balance while utilizing the 6 channels available. The surround is never over down and only in certain areas do you get that roaming motion in the sound. Very cool. Naturally, I ran with the Advanced Resolution Dvd-audio track, but for those of you without this support in your player, the Dolby Digital will give you a decent listen.

Overall:

Another great release from the Van Zant brothers. The music is just good rock and roll. It can be classified as cruisin' music in my opinion. Pop the disc in, keep back and enjoy the ride. The mix is very nice as mentioned. One of the best balance discs I've heard so far with nothing getting to flashy to the point of distraction. This will be important to the success of the format. A good title to demo with for those of you converting all of your friends. Nice job Silverline!