Specifications:

Audio Tracks-24 bit/96khz Dvd-Audio

                   24 bit/48khz Dolby Digital 5.1

Supplemental:

'Desert Dance' Video

Photo Gallery

Lyrics

Sound Quality:

I'm not sure what fan opinion of this latest effort from Queensryche is at this point, but I definitely like it. In some ways it reminds me a bit of 'Promised Land' maybe with a touch of 'Q2K'. I personally liked both albums although I like their older material much better. The music has that mysterious saounding vibe that the band is known for. As far as the mix is concerned, it's damn good. I would definitely recommend this version any day over it's cd counterpart. This release has a very balanced mix with very good use of surrounds. You get a bit of flash in the surrounds. There is also some vocal usage in that area. It sounds amazing. If you want to convert someone to this format, this is another good disc to get the point across. A lot of clarity throughout with sound traveling a bit at times. A very good low end effect as well. Queensryche music just begs for surround treatment so lets hop we get some more in the future.

Overall:

I have been a fan of this band for a very long time, since the e.p. actually. With the exception of 'Hear In The Now Frontier' (which I thought left alot to be desired) the band has done a good job of evolving from album to album. You can't make everyone happy all of the time, but I think these guys come close. The mix is a stunner. Not getting overly flashy, but getting some here and there make it much more fun to listen to than the compact disc. There are some extras as well on the disc. There is a video for 'Desert Dance' which is cool, but seems to be very slightly out of synch with audio and video. Still fun to watch though. There is also the usual Lyrics and Photo Gallery that Silverline offer up with most of their releases. I also like the speaker setup that they have been using for a while now with their discs. Rotates through the speakers giving you a volume for each for proper matching. This disc is a definite no brainer in terms of quality and makes a great addition to all rock collections!

Specifications:

Audio Tracks-24 bit/96khz Dvd-Audio

                   24 bit/48khz Dolby Digital 5.1

Supplemental:

'Hallelujah' Video

Artist Photos

Weblinks

Sound Quality:

A ritual for me for some time now has been the Hagar concert events. He puts on a helluva show and has a great catalog to choose from. The compact disc version of this album came out some time back. It's nice to finally have the surround version which I think is really enhancing alot of live discs these days. The mix is great as usual. Lots of crowd noise and music echo in the surrounds which gives it a definite live feel. I was hearing things in this mix I hadn't heard in the original stereo mix which is a testament to this versions clarity. The hits are all here with tunes covering Montrose, Van Halen, and solo Hagar stuff naturally. As usual my choice is the 96khz mix, but both sound pretty good. It is important to mention that all of these discs can be played in a normal DVD player and that is what the 48khz version is for. 17 tracks of bliss from one of rocks best frontmen.

Overall:

I prefer my live stuff in surround there's no doubt. The surrounds just add to the live feel and once you experience it there's no looking back. 'Hallelujah' is another great addition to the live Dvd-Audio catalog. It's the next best thing to being there. As far as the supplements go, you get a video for 'Hallelujah' mixed in Dolby Digital 5.1 which is a nice addition. You also get some liner notes that discuss the making of the live album and reasons for the way they did some things including the fade outs. It's an honest note from the man himself and a good luck into why he does what he does. With the market penetration of DVD players been as large as it is, this should be a natural choice for fans. Good mix+good music equals a definite recommend from. So what are you waiting for?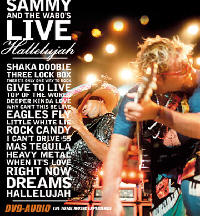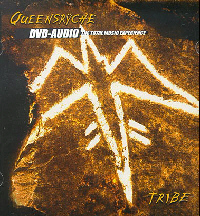 Queensryche-Tribe

© 2003 5.1 Label Group/Silverline

Sammy and The Wabos-Live-Hallelujah

        © 2003 5.1 Label Group/Silverline Records