Uriah Heep-The Best

© 2001 Castle Music/Silverline Records

Specifications:

Audio Tracks-24 bit/ 96khz Dvd-Audio 6 Channel

                   24 bit/ 48khz Dolby Digital 5.1

Supplemental:

Artist Photos

Discography

Sound Quality:

You know...Dvd-audio is very kind to older recordings. From the minute the first track 'The Hanging Tree' starts until 'Blood on Stone' ends you get a different appreciation for the bands music. Silverline has done an amazing job breathing new life into these recordings. Separation is used well and definitely not overused to the point of distraction. The recordings have a new clarity to them previously unheard before. The Dvd-audio scheme is definitely the one to choose out of the two available. For those with the Dvd video player only, you can still access the sound through your players 5.1 decoder. Sound quality is definitely better through a Dvd-audio selection, but is still better than what a compact disc would offer using the Dvd-video option. As far as the track selection for this 'best of', it's pretty good. You get some live stuff featuring the last known recordings to feature Ken Hensley in the band which is a nice added addition for fans of the band.

Overall:

This disc is a clear winner from the good folks at Silverline. The separation is used very tastefully. It is amazing to hear things separate further then stereo and this album is a good example. The music really fills the room and you get a sense of being there in places on the album. The photo supplements are nice and the discography is informative with cover art, track, and bonus track information all made avaialable through the discs video portion. If you are looking for a classic hard rockin' disc that is on this new format, this ones definitely a good bet!

For more info and to purchase:

   Foreigner-4

© 2001 Atlantic/Rhino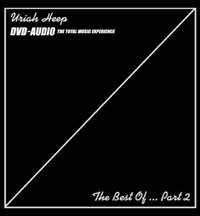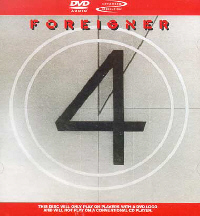 Specifications:

Audio Tracks-24 bit/ 96khz Dvd-Audio 6 Channel

                   24 bit/ 96khz Dolby Digital 5.1

                   PCM Stereo 2 channel

Supplemental:

Photo Gallery

Lyrics

Sound Quality:

I have never heard this album sound this good. You can't imagine how much warmth is back in this album. Probably the only way to get this much sound is to actually be there when it was put together in the studio over 20 years ago. The new surround mix is tasteful with good use of the the surrounds to add depth in places such as 'Jukebox Hero' in the beginning. This album also has amazing clarity. Nothing gets overly done in the mix providing good balance for a great full sound. Once again I would definitely utilize the Dvd-audio sound scheme due to its potential. One thing is for sure, you're gonna hear things you've never heard before. There is also an added bonus. Two tracks featuring Lou Gramm and Mick Jones doing nearly unplugged versions. The two tracks done are 'Jukebox Hero' and 'Waiting For A Girl Like You'. I like them both, but prefer 'Waiting For A Girl Like You' due to it's normally light nature.

Overall:

This is without a doubt an outstanding album with a great new mix that pushes the capabilities of Dvd-Audio. This really is the way the album should have been heard from day one. It's like being there live. You are immersed in sound all the way around you. While not overflowing with extra material, what is here is nice. Lyrics that you can read while the songs are playing and some photos from the time era that will have you reminiscing. Another great album to buy if you are just getting into the format!

For more info and to purchase: