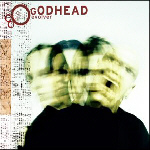 Godhead-Evolver

© 2003 Reality Entertainment

Marcel Coenen-Guitar Talk

            © 2003 Lion Music

I happened to catch this band a couple of years ago when they were on tour with Rammstein. My first impression was that the band wasn't too bad. They seemed to have their stage presence and also came across as being pretty solid as a group. I checked out the bands release for that tour '2000 years of human error' next. Not bad, kind of electronic with a bit of an early Nine Inch Nails vibe going. Well, that brings us to the bands latest release 'Evolver'. The first thing that jumps out at you upon hearing this album is that it is much more guitar driven. There really is a difference and it works well. I found alot of the music very catchy and instantly accessible. I also found the music to be much more consistant in terms of quality on the album. A pretty cool listen from start to finish. I really like the album best though from 'Deconstruct' onward. The album finds a groove where the songs kind of flow from one another. I also like the vocals on this album. A good enhancement to the overall feel of the album. I'm not sure how this album will be recieved, but it does have the potential of bringing on a plethora of new fans.

Overall

I really like this album. It has a heckuva groove through it that tends to add to the catchiness. I think that if you haven't checked out many more modern acts, this is one that could have appeal to a lot of people. there is a little something for everyong here without selling out where the band has come from. This is an album that can be played in its entirety and be enjoyed the whole way. I would definitely recommend this title.

Lion music have a pretty serious roster of guitar greats. Add to that Marcel Coenen. I personally find him to be pretty exciting. This album was actually written over a long period of time. Some of the music dates back to 1989 which really adds influences from those eras as well as the newer material that may draw from later influences. What I like about this album is some of the rhythm work. It's one thing to rip off a solo, but I really dig frantic rhythms. This album has a few hard driving rhythms that really pick your adrenalin levels up. I think Marcel has done a good job in pure delivery. It's well balanced between rhythms and solos and has some pretty good songwriting. One of the tracks that I found interesting was the Dutch national anthem that is appropriately titled 'Anthem'. Marcel metallized this song for a competition and actually won! It really is cool to listen to and adds imagination to the song. By listening to this release you get a feel for the many styles and influences that Marcel displays. It really is a breath of fresh air to grab an album that not only shows good technique, but delivers some serious hard driving rhythms that display the basics of a great metal song.

Overall

Naturally, you know I'm going to recommend this title. Those who know me know that I am a nut for good rhythm work which is why I am a Megadeth and Metallica fan as well. Coenen isn't afraid to grab some old school and get the blood flowing or even start a pit, eh? He does balance tempo well, but he's really good at the heavy stuff which makes me smile everytime. Very solid instrumental music that will please old school fans as well. Definitely Recommended!